Welcome!
This corner of the PCWize.com website is devoted to my 2005 Dodge Ram Power Wagon. While the pictures for the most part will be of my truck, a good deal of the information, how-tos, and blog type stuff can be applied to pretty much every truck. Additionally, you'll find information here covering Pop-Up or tent trailers as I really didn't want to create yet another subsite to the ever expanding PCWize.com.
June of 2006, brought the chance to buy a new truck. I'd been waiting for this for a very long time and I set my sights on a Grey 2005 Dodge Ram 1500 5.7L HEMI© which the previous owner had already put some money into with a four inch suspension lift, 33" BFG Mud Terrains and a drop in bed-liner.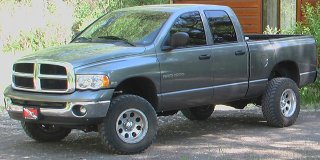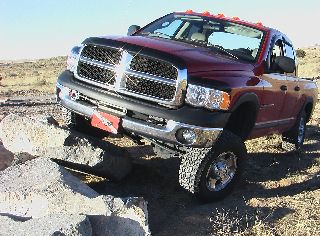 I knew going into this that I'd be putting up a lot more money in the next few years to do all the things I wanted to with it. My initial wish list once I bought the truck was going to run me about $5,500 and the list kept growing.
Unfortunately my truck was stolen during a 15 minute trip into the grocery store December 20th, 2006. I was really bummed out for the first couple of weeks afterwards, but things picked up in the third week when I located a flame red 2005 Power Wagon (#0536) in pristine condition for a great price.
Her name is Code Red (picture to the right) and here are some more pictures.
If you're not familiar with the revitalized Power Wagon line, here's the highlights. All in all it's a wheelers wet dream (at least as a stock vehicle).
Built on the 2500 series Ram.
5.7L HEMI©
4.56 ring and pinion gearing front and rear.
TracRite GTL locker in rear and TracRite EL locker in the front w/ in-cab controls.
40mm Bilstein Monotube gas charged shocks on all four corners.
Electronic in-cab sway bar disconnect for 32" of articulation (665 on the RTI).
Undercarriage skidplates for steering damper, transfer case, fuel tank.
Fore and aft skid bars between skidplates.
12,000 pound Warn winch.
33" BFG All Terrain KOs.
Modified Alcoa rims to provide stronger bead seating.
Softened throttle response in 4-Lo for better control.
160 amp alternator.
The first difference I noticed between the 1500 and the Power Wagon was the 4.56 gearing. The 1500 also had a 5.7L HEMI©, but had 33" BFGs, and only 3.92 gearing. In the 1500, there was no chance of spinning the wheels unless the road was wet. With the Power Wagon, I have to make a concious effort to take my foot out of it, especially in cornering because the rear end will break loose.
The next thing I noticed was the smoother ride. My 1500 had Rancho RS5000s which made for a rougher ride. On the Power Wagon, the Bilstein monotubes in conjunction with slightly softened springs makes for a very smooth ride in comparison. There's also much less wheel hop in the rear on washboard and bad roads.
Since the Power Wagon comes stock with pretty much all of the stuff I wanted to do with my 1500, my wish list has gotten so much shorter and immensely cheaper!
Another cool thing about the Power Wagons is that they are sequentially numbered starting at #0001 each production year. If you have a Power Wagon and want to know what your sequential number is, just take a look at the last four digits of your VIN. Since they're only using the last four digits to designate the production number, the most that can be made in a single production year is 9,999. Apparently, trying to get info out of Dodge on how many Power Wagons were produced per year seems to be futile. One of the reasons I created the Power Wagon Registry was to try and get a handle on how many were built for each production year. Head over there to see what the current stats are based on Power Wagon Registeries at that site.
Detailed Tech Specs
Engine

5.7L Hemi© V-8
345 cid - 345HP (5400 RPM) and 365lb-ft (4200 RPM)
3.92 (bore) x 3.58 (stroke)
16 valve deep skirt cast iron block
Compression Ratio 9.6:1
87 octane acceptable (runs just fine with it), 89 preferred
Oil Capacity: 7qt
Engine Coolant Capacity: 18.5qt

Transmission

5-45RFE Automatic 5-speed
1st - 3.0
2nd -
3rd - 1.0
4th - 0.75
5th - 0.67
Overall gear ratio 3.0

Transfer Case

Part-time
Low-range ratio: 2.72
High-range ratio: 1.0

Dimensions and Capacities (Quad Cab)

Wheelbase: 140.5"
Length: 227.7"
Width: 79.8"
Height (stance): 80.6"
Front Axle Ground Clearance: 8.4"
Rear Axle Ground Clearance: 8.3"
Approach Angle: 35°
Breakover Angle: 25.5°
Departure Angle: 26.5°
Fuel Tank: 34 gallons
Cargo Box Length: 75"
Cargo Box Width: 70.2" between wheelwells: 51"
Cargo Box Depth: 20.2"

Suspension

Front: Live solid front axle, 40mm Bilstein Monotube Gas Charged Shocks
Rear: Live axle, 40mm Bilstein Monotube Gas Charged Shocks
Here's some of the quick and relatively cheap stuff I bought to spruce up both trucks.
---
Galleries
Here are some of my various gallieries related to trucks and popups.
News:

Offroad lighting behind the grill

---
The holy grail of Power Wagon Mods!

---
Pics and Video of Power Wagons Wheeling

---
VHT Nite Shades Cab Light Blackout Mod.

---
Added new gallery "Power Wagon Flexin' 3".

---
Added new gallery "Power Wagon Flexin' 1".

---
Added new gallery "Monster Truckin' 2".

---
Added new project "Ghetto Contractor Rack".

---
Added new project "Installing Cab Lighting".

---
Read about the attempted theft of my buddy's truck and how it was thwarted by a Ravelco security system.


Offsite Resources: