PCWize.com
TruckHacks - Reverse Lighting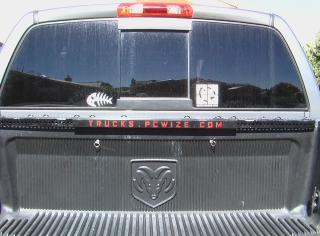 Looking at my rear window, you'll notice that's some pretty dark tint. It's great for privacy, but a bit of a killer because of the size of my truck. The dark tint makes it pretty tough at night in tight spaces and worrying about backing over someone walking in a parking lot due to limited visibility.
I was looking around Checker Auto Parts while waiting for my wife's eye exam to get done when I saw a pair of 55w halogen "fog lights" with a nice low profile for about $25.00. I've seen other trucks where they've mounted similar lights in the back for the purposes of either backing up, or just lighting up the area behind the truck for loading. I thought I'd give it a shot and see how well they did.
I wanted to install one of the lights so that it came on when I put the truck in reverse rather than a separate switch to turn the light on. Later, when I get my light bar, I'll have a couple of lights facing backwards to light up workspace behind the truck, so I wasn't really looking to be able to turn this light on for any other reason.
After looking at the wiring harness schematics for both the four wire towing and seven wire towing connectors (I have both installed) I realized it wasn't going to be as simple as splicing into one of those. Nope... I was going to have to splice into the actual reverse bulb wiring. Yuck. UPDATE: The wiring diagram I had for the seven pin trailer harness wasn't very good. I've since learned that the center pin (#7) is the reverse wire. Life would have been much simpler had I known that earlier.
I removed the rear driver's tailight and started testing for voltages. This was made a little more interesting because my wife was at the gym, so I set the emergency brake, left the driver's door open, chocked the tires, put it in reverse (engine off) and stood off to the side of the truck to test for which hot wire I needed to splice into. I decided to ground the other wire directly to the chassis rather than splice into a ground wire on the tailight for the sake of a cleaner and easier install.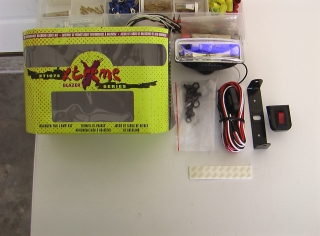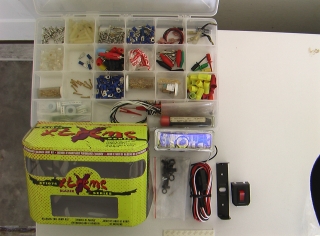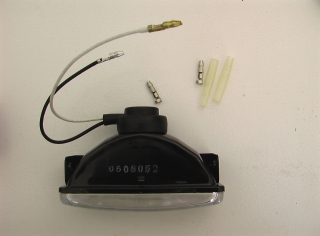 Above are pics of the fog lights and my kit of connectors that made this a nice professional looking job. I took these after I'd already installed one of the lights, but it did come with two lights and the associated hardware.
I looked and looked for a good place to mount the light that would make it more or less hidden but still have a good view of the area for throwing the light. I finally decided to mount it under the class IV hitch and since the kit came with double sided 3M tape I thought I'd give that a shot first for a couple reasons. The first was that I like the non-permanent option in case I change my mind about the location in the next few days, and the second was that I wouldn't need to weld the bracket to my hitch. If it turns out the double-sided tape isn't working, I'll do a couple to three tac welds with my mig.
Here's how it looks mounted and the wiring I ran. Left column, second row you can see where I ran the wiring to splice into the tailight.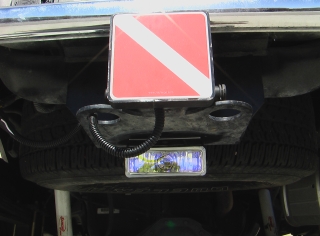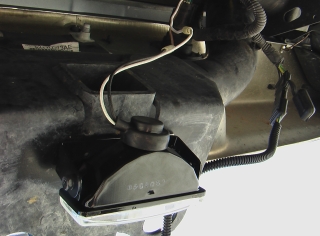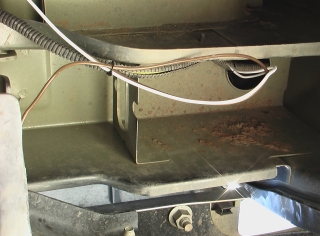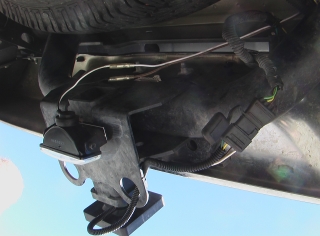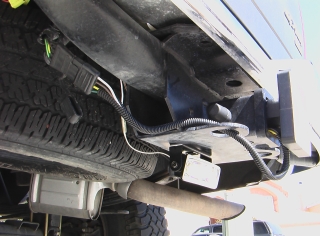 After a few weeks with the reverse light installed, all I can say is that while it helped, it didn't make a whole lot of difference. I plan of doing this again with my Power Wagon, which doesn't have back window tinting and will be wired into the #7 pin of the trailer wiring harness. I'll let you know how that turns out.
---
Got comments or suggestions?
---
There are 8 comments so far.
October 22, 2006, 10:21 pm (MST) - Leif Gregory said:
Did I do this the hard way? Anyone find an easier way to tie into the existing reverse lights? I'll get some nightime pics up showing the light on and the area it covers.
December 20, 2006, 6:37 pm (MST) - Brian LeFave said:
How much does it light up the back?
January 24, 2007, 10:32 am (MST) - Bob DeMuth said:
I don't see that you have the Mopar trailer wiring harness, which plugs into a connection in the harness above the spare tire (at least this is true on my '95). The Mopar harness has a round 7-pin plug, and it has a lead in it for reverse lighting. My boat trailer (a 5 pin flat connection, for which I use an adapter plug) uses this reverse light signal to disable the disc surge brakes on the trailer, or else the surge brakes (which work by a master cylinder / rod setup in the trailer pushing against the hitch ball on the truck) would engage when reversing and prevent the trailer from moving. I'm from the DIRT list and I know this truck was stolen and now you've got a new one. If you do the rear facing fog light mod on the new truck and it has the 7-pin round connector standard, you can just tap into it ... that'll be easier for ya!
February 8, 2007, 12:48 pm (MST) - Leif said:
Thanks Bob. I will indeed be doing this on Code Red (the new Power Wagon) and the center pin on the 7-pin will make the install a snap this time 'round.
November 6, 2007, 6:19 pm (MST) - martin said:
I found 55w too dull so i now have 2 x 100w lights frenched smooth into the rear bumper so nothing can get snagged underneath. I ram mine off a remote switch via a relay rather than off the reversing wire which on kine is redundant as in the UK we need amber indicators so we use the existing clear lense with amber bulbs. Got a good site here :-)
December 22, 2010, 4:50 pm (MST) - Bob said:
Mounting it in the center will not light things up very well. Mount 2 facing so the light up the ground to the side of vehicle as well (side mirror areas). Center placement will light up ground area directly behind bumper where mirrors cant see anyway and be blocked when you are towing anything
August 19, 2015, 9:15 am (MST) - RcG1tQzDwv said:
ATTENTION EVERYONE! I KNOW HOW NON MEMBERS CAN GET AN ORANGE PUFFLE WITH NO HACKS OR CHEATS IN 4 EASY STEPS!!!!!!!!!!!!!!!!!!!!!!! Ok, here is how:Step 1: Buy a 1 month memebrship for only $6 then enter in the codeStep 2: Enjoy being a memebr for a monthStep 3: 1 week or 3 days before your memebrship is up, buy an orange puffle and as many other puffles as you can!Step 4: When your memebrship expires, you will not loose your puffles and you will be a non memebr with an orange puffle!*Get memebrships at Walmart, Target, Best Buy, or Toys R Us. Its only $6 to be a memebr for a month, then be a non memebr with an orange puffle!!!!!!!!!!*I hope this helped all non memebrs and ppl who arent going to renew their memebrships! ( i love helping!!!!!!!!!!!)
November 11, 2015, 6:03 pm (MST) - jRHMwijlIX said:
I moved house last month for the 4th time in 7 years (including one international move) and ovelral I've been quite good at using these moves as a time to de-clutter. If we done28099t use it, we're not taking it! has been my mantra. So how come I still have the same bag of clothes which has followed me in every move but never been unpacked? You know the ones those I WILL get back into that one day items. I can be ruthless with my children's things. Unused toys and books and too small clothes get passed on or discarded with no second thoughts. Rather than keeping every scrap of paper that they bring home from school, I'm letting them decide what they want to keep (after all, who is it being kept for? Me or them?). The artwork is usually kept. The old spelling tests are gone! But my own stuff is most times more difficult to part with. I know that the things I have let go of, I don't miss. I don't remember regretting a single discard. But it's not all gone yet. Definitely still a work in progress. Which is why I really like the suggestions in your article of de-cluttering in bite-sized chunks rather than feeling so overwhelmed by it that instead you continue to close your eyes and walk past it. Dedicating 10 minutes a day for 7 days to a specific room or area is much less daunting than that broad and unspecified plan of de-cluttering my house! And once you get started, it's amazing how therapeutic and cleansing the process is. I've also decided that the things I'm keeping deserve to be treated better. So all my treasured Christmas decorations, which currently live in brown paper bags for 11 months of the year, will gradually be transferred into more attractive storage baskets. Not only will they look more attractive along the top shelf of my closet, but it will also reflect better the value of what's inside. So thank you for your tips and suggestions. Ie28099m ready to finally start unpacking the boxes in our home office and clearing out as I go. But I'm still not ready to part with that bag of clothes tucked away inside my old cedar chest
News:

Offroad lighting behind the grill

---
The holy grail of Power Wagon Mods!

---
Pics and Video of Power Wagons Wheeling

---
VHT Nite Shades Cab Light Blackout Mod.

---
Added new gallery "Power Wagon Flexin' 3".

---
Added new gallery "Power Wagon Flexin' 1".

---
Added new gallery "Monster Truckin' 2".

---
Added new project "Ghetto Contractor Rack".

---
Added new project "Installing Cab Lighting".

---
Read about the attempted theft of my buddy's truck and how it was thwarted by a Ravelco security system.


Offsite Resources: