PCWize.com
TruckHacks - Interior Hacks
This area is for the really small interior stuff that I didn't really want to call a hack. i.e. where my XM radio sits, the DVD player, iPOD etc.
Here is how I mounted my iPOD Nano using the cell phone type mount. This works very well for the Nano but probably not so great for the bigger iPOD models. With it located here, I can very easily read the screen and the type of FM transmitter I have allows me to charge it with a mini-USB to 12v cigarette plug cable that I run from the inside of the center console.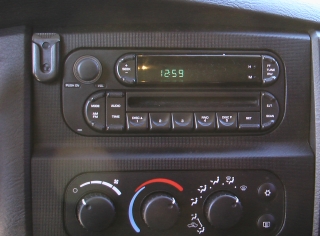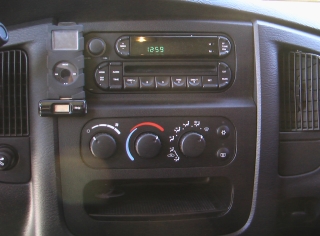 Here's where I mounted my XM Radio with the wires running down the inside of the 'A' pillar. The only downside to mounting in this location is when you put the visor down, you can't read the display. Other than that, I really love having it there. It's out of direct sight, but a quick snap up of the eyes and I can read the display. On the dash, you can see the cradle for my Garmin 60CS GPS unit, and up against the window you can see the GPS external antenna and the XM radio antenna. I ran power (bottom right pic) from the center console up through the dash to where it connects to a splitter next to the 'A' pillar. You can also just see part of the chrome fire extinguisher on the other side of the tranny hump. The 12v recepticle here is one of the "always-on" ones, so the plug I bought that goes in there has a switch to turn it on and off.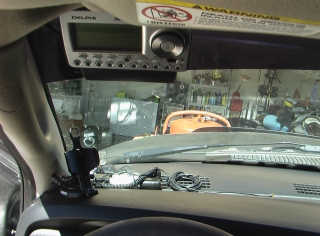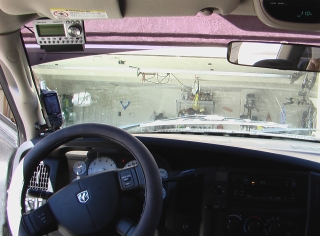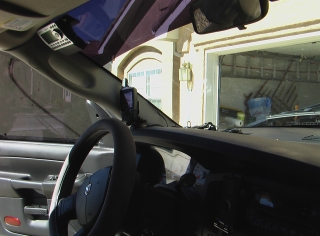 I bought a chrome 10" fire extinguisher off e-Bay for $10.00. It mounts perfectly and out of the way on the passenger side of the tranny hump. I used short self-tapping screws to mount the bracket. And yes... I did check for clearance on the underside before I drilled. <grin>. Also I mounted it "upside-down" so that the activation lever would be towards the center of the truck and not sticking out for someone's leg or other object to hit.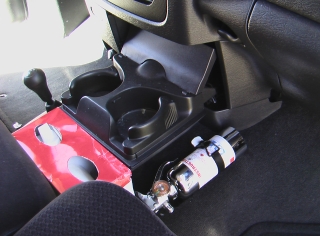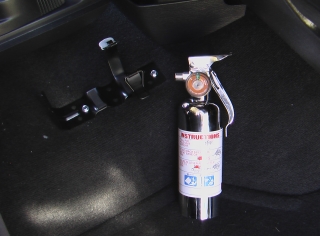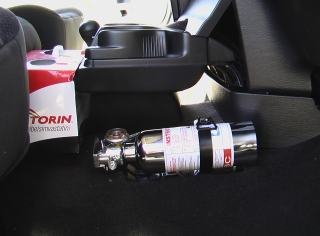 If you've got young kids and do lots of road trips, you have got to get a portable DVD player to strap in. Yes, you can buy the headrest or ceiling mounted types, but being able to take the portables on a plane, someone else's car, or wherever is worth the hassle of strapping it in. This is a piece of cake where I mounted it on the center console. I don't even have to unstrap the strap. I just open the DVD player and slide it out. I also set the straps so that the DVD player would mount where it wouldn't be up against the driver's or passeneger's elbow when open.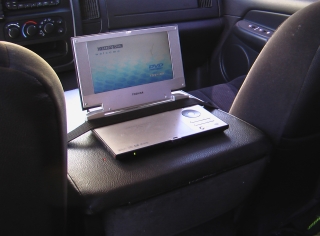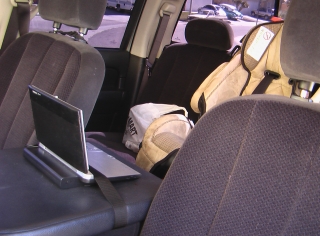 ---
Got comments or suggestions?
---
There are 11 comments so far.
October 23, 2006, 12:58 pm (MST) - Sean Pearson said:
Where is the Mac Mini? or the Tom Tom?
October 23, 2006, 5:45 pm (MST) - Leif Gregory said:
Tom Tom???? Why would I do that?!?!? I've got a perfectly good Garmin GPSMap 60CS. And.... It's portable.
December 16, 2006, 10:11 am (MST) - Mr. Commenter said:
I hope somebody steals all of your "gadgets". With all of the things you have in your truck, It sounds to me like you have no life and basically live there. Why would anyone want to supply their kids with a dvd player in the car/truck? As if they dont have enough time to watch tv and play video games already...GPS? I could see why this could be useful, however i dont see why you'd need it day to day. Oh, and, about that fire extinguisher...If there's a fire, would you concentrate on putting it out to save your hundreds of dollars worth of junk? Or would you try to get your family out of there and go to the side of the road, thinking about how everything inside there can be replaced? Theres more to life than "things"...
December 18, 2006, 8:02 am (MST) - Leif said:
Wow.. What a great guy... That's kinda like saying "You got a new laptop.. I hope somebody hacks it and it becomes a zombie used for DDOS attacks against orphanages." Considering your apparently excellent upbringing and moral values, I'm not even going to engage you on child rearing (DVDs etc.) because it's obvious you couldn't hang. As for fire extinguishers. Hmmmm. I'm guessing at this point then that you don't think they're valuable in a house either? So I'll add to your lack of a good upbringing, a lack of common sense too. Family first, fire second. A fire extinguisher could mean the difference between a few hundred dollars of repair and the total loss of a vehicle/home. And as for a life, if you've got nothing better to do than criticize the way other people live, then you've got bigger problems than I my friend. Maybe if you bought a GPS and did some geocaching, hiking, mountain biking, snowboarding, snowshoing, camping, roadtrips outside your little cozy world consisting of the ten miles around your home, then you'd know what a life is, and you'd know how you could use a GPS on a day to day basis.
December 21, 2006, 10:48 am (MST) - Anonymous said:
To Mr. Commenter, Piss off... the one with the most toys wins!!! There is nore to life than posting mindless drivel on a blog...
December 21, 2006, 4:00 pm (MST) - Steve said:
Lief...the Mr. Commenter guy doesn't even deserve a reply from you. What an @sshat.
January 19, 2007, 2:55 pm (MST) - Ben said:
What steve said..
June 5, 2007, 11:49 pm (MST) - jay said:
ok mr commenter what do you spend your money on quit complaining and being dumb shit why work if your not going to spend your money and enjoy it i spend my money on bikes this guy likes his truck to each his own so dont comment if your going to be a dumb ass
September 12, 2012, 8:29 pm (MST) - Anonymous said:
Thuohgt it wouldn't to give it a shot. I was right.
August 19, 2015, 7:09 pm (MST) - MvRvGTEty0hw said:
Hahahahahha! National PUNCH day is .PARTY PUNCH the beverage!! I guess it is up to ipeernrttation. I suppose you could do both. I would not recommend mixing sharp paper punches with spiked punch, however. Better safe than sorry.
November 11, 2015, 5:42 pm (MST) - onoTTtWdi said:
Just wanted to make sure those minkag comments realize that to vote, you need to click on our voting page up above, not just comment here Congrats to the ladies in the poll! And good luck!
News:

Offroad lighting behind the grill

---
The holy grail of Power Wagon Mods!

---
Pics and Video of Power Wagons Wheeling

---
VHT Nite Shades Cab Light Blackout Mod.

---
Added new gallery "Power Wagon Flexin' 3".

---
Added new gallery "Power Wagon Flexin' 1".

---
Added new gallery "Monster Truckin' 2".

---
Added new project "Ghetto Contractor Rack".

---
Added new project "Installing Cab Lighting".

---
Read about the attempted theft of my buddy's truck and how it was thwarted by a Ravelco security system.


Offsite Resources: