PCWize.com
TruckHacks - Herculiner Bedliner Project
Make sure you at least jump down to the end to read the updates if you don't end up reading the whole thing.
My old Ram 1500 had a Mopar under rail drop in bed liner. Maybe I'm weird, but I actually liked having a "slick" bed. When I loaded up for a camping trip I could set something on the tailgate and with a good shove, send it to the front of the truck. There were only two things I didn't like about it. One is that it rubs on the stock paint pretty bad so rust in the future was inevitable. Second was that water collects under the bedliner which also increases the risk of rust.
I debated heavily the pros and cons of drop-ins, spray-on, paint-on, and mats. Eventually I decided on Herculiner based on price, "ease" of installation, long-term protection, ease of fixing / maintenance, and looks. There are quotes around "ease of installation" because it wasn't all that easy. The prep work of scuffing / scoring the stock paint in the bed, dealing with headache inducing M.E.K. and the nasty gooey mess that is Herculiner over a two day weekend wasn't "easy".
I decided to give Herculiner a shot for a few months to see if I really like it. If not, then my plan is to buy a Mopar drop-in bedliner and since the bed will be protected with Herculiner I wouldn't have to worry about the paint scuffing problem I mentioned above so much. If the Herculiner started to wear, I could just do a touch-up on it.
So, let's get on with the meat and potatoes!
The first thing you have to do is the prep work. The kit includes a green scouring pad which you use to scuff up all the paint you plan to coat with Herculiner. I considered using a powerdrill or sander to make it go a little faster, but for whatever reason, I ended up doing the entire bed by hand.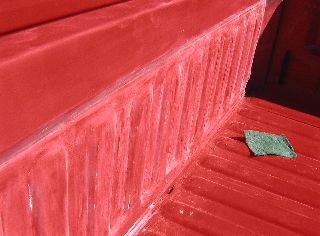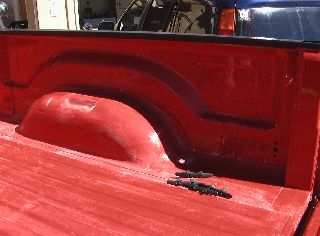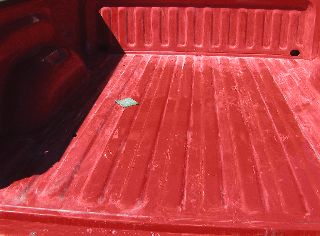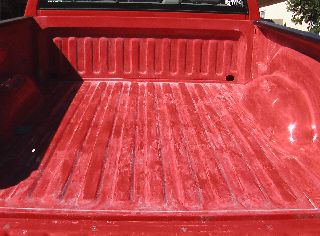 After you've scuffed every nook and cranny, then you wipe the whole thing down with MEK. I got a bit depressed when I discovered post-MEK that I had missed quite a few spots. So, it was back to work scuffing away. By now, my fingertips were nearly raw and cramped like nobody's business.
Another round of MEK and I was ready to start applying Herculiner. The instructions state that you should use the included brush to get all the hard to reach spaces and seams.
Once I'd gotten all the spots where I thought the included paint roller would have a hard time reaching, it was time to start laying down the broad strokes.
Make sure you keep the MEK handy to help thin out the Herculiner and to quickly wipe up any overpaint you might get somewhere. You'll definitely want to wear old clothes and if you can stand it, some sort of gloves.
Update: It's been nearly half a month and I still have Herculiner around my fingernails!
In the lefthand picture, it doesn't look too bad, but get up close and you can see it's a mess. The instructions said you'll need two coats, but at this point I was worried that this was going to be ugly looking when it was all said and done. I let the first coat dry for about four hours and then started in with the second coat. I used the brush again to get to all the hard to reach spots first.
Holy cow!!! What a difference the second coat makes. I was hoping for more of a flat black, but I wasn't complaining yet because the paint was still wet. At any rate, below is the finished product.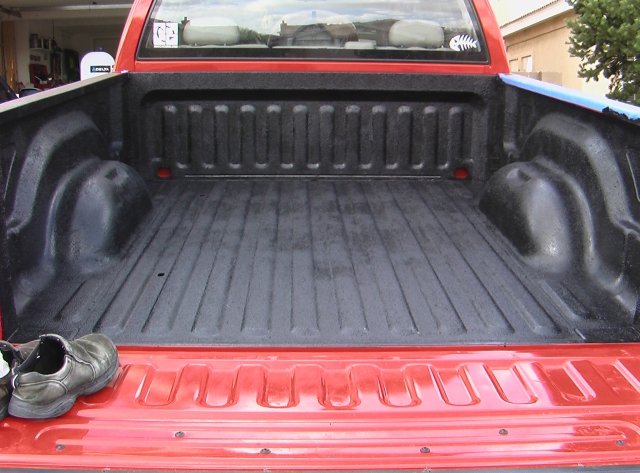 I decided not to do the tailgate because one, I was tired of scuffing and painting, and two I'm going to put a Mopar tailgate cover there. The way those are designed, they don't scratch the paint and they cover pretty much the entire inside face of the tailgate.
A couple of days later I jumped in the bed armed with another paintbrush and hit all the nearly invisible spots I'd missed and finished off the detail work around the bedrail caps.
Here's a list of things I learned you'll want to know if you decide to do this.
Really spend the time to do a proper scuffing. I later talked to a guy who showed me his truckbed which he didn't scuff first. The Herculiner didn't stay adhered and was coming off in many places.
Clean up any big goopy drops promptly. If you let them dry, you'll have these big bumps and it doesn't quite look right.
Wear old clothes and some sort of gloves. I think I wicked about a years worth of natural oils out of the skin on my hands using MEK to clean them.
Don't paint yourself into a corner.
Don't spend a whole lot of time trying to get the first coat perfect. You saw how bad mine was and how well it came out after the second coat.
If you use tape to mark off areas you don't want Herculiner on, remove the tape while it's still wet. I left the tape on for about two days because of bad weather and it was tough getting it off without tearing the tape or the Herculiner.
Don't bother trying to salvage any brushes or rollers. It's almost impossible to get the Herculiner off them. I bought a box of the cheapy sponge brushes at Home Depot and those worked great.
When using the brushes, you don't brush it on, you blot it on.
Wipe excess rubber particles off the brush before applying or you'll be trying to spread it out evenly right afterwards.
I didn't wear shoes inside the bed because it kept leaving dusty footprints. Needless to say, the socks I wore ended up in the trash afterwards.
Take off the tiedown hooks, but put the bolts back in the holes. If I accidentally got Herculiner on the bolt or threads, I pulled it out, wiped it down with MEK and put it back in.
While I won't minimize the amount of work that this takes, it was well worth the effort. You can definitely save yourself a whole lot of time by using some sort of power tool to do the scuffing.
Update:


Well, it's been about a month and a half now and I thought I'd give an update on my impressions. The Herculiner did indeed flatten out so that it wasn't so shiny anymore which I was happy to see. What I wasn't happy to see was that it didn't take much weight shifting around to scuff it up pretty good. The first time it happened (which I didn't get pics of) was when we loaded a full pallate of topsoil into the bed about one week after putting the Herculiner on. To be honest though, I couldn't really fault Herculiner for it because after the forklift guy dropped the pallate into the bed, he pushed it forward a few inches to clear the tailgate. I didn't realize how bad it had messed up the Herculiner until I got home and unloaded the pallate but it required a good bit of Herculiner I had left over to patch it up. I expected Herculiner to be tough, but I didn't expect it to be invincible and this was clearly abuse on my part.

About three weeks later I helped a friend move some furniture and the Herculiner got torn up pretty bad again. Oddly enough, I had even laid out a bedsheet in the bed to protect the furniture from the Herculiner. The furniture we moved wasn't all that heavy and nothing was shifting around much as I had strapped everything down. The damage came from loading and unloading the truck. Here's some pics.
Note, these scratches aren't in the locations I had painted again after the topsoil incident as those were located in between the wheelwells. You can also see that I put the Ubiquirack in this truck too but I painted it this time with the last bits of Herculiner I had.
Update #2

Well, it's been a couple years and it looks pretty bad now. In fact, it started looking "pretty bad" at about six to eight months. I stopped trying to patch it up and just covered the bottom of the bed with a rubber mat from Dodge.


My recommendation, save your pennies and do it right with Line-X or Rhino Liner.
---
Got comments or suggestions?
---
There are 5 comments so far.
June 21, 2007, 8:54 pm (MST) - Bernie Klashinsky said:
I have been doing some research into do it yourself box liner applications. Especially since I found out that here in Victoria, B.C.,Canada where I live, they want $500 for the Rhino Hide system. I have read your submission and I am following it religiously. I am going to pick up my kit tomorrow, and weather permitting, hope to get at it on Saturday. I will post more comments here to let you know how it went. If my application turns out okay, my friend wants to do his truck also. I have a 2003 GMC Duramax Crew cab, short box, my pride and joy and our tow machine for our 28 foot fiver. Bernie Klashinsky
November 5, 2008, 8:24 am (MST) - erykgee said:
as per your story I'm doing my old 1953 Nash car floor boards,this is unibody auto and I would like to protected under the carpet ,trunk and around headlites ,taillites,I just did partial application (1/2 car)the reason is that I would like to eliminate the road noise as much as I can. but can I apply herculine to the metal above (INNER METAL TOP) that is covered by the headliner..
September 10, 2012, 3:02 pm (MST) - Anonymous said:
Eric: which the president's viosin was consistently compromised by opposition from within his own cabinet; by pressure from Israel, Saudi Arabia, lobbyists, and Congress; and by the actions of the Iranian government."Was it Truman who said, The buck stops here ? Well, it stops on Obama's desk as well. I'll confidently venture a guess that the Leveretts would not exclude the other listed causes I think so. Yet they do end up minimizing the significance of these other causes, assigning a very great deal of weight instead to what they believe is Obama's insincerity from the outset. Once again, I go back to the attitude he expressed during his election campaign. He talked diplomacy, but his bottom line was no domestic enrichment. Now was he was ill-advised about the actual legal nature of Iran's enrichment, or ill-advised about the legality of Iran's case being referred to the UNSC for what were technical and old violations? Possibly. As in the case of the neocons, it's very difficult to determine whether a politician's statements, let alone those of his advisers, represent sincerity vs opportunistic political speech.However, we were sold the notion that Obama was intelligent, that he was a Constitutional law expert who presumably understands how to read treaties, that he was conscientious.Is it conscientious to take everything an adviser tells you on faith? There is such a thing as delegation , but if average people such as ourselves can spend an hour reading various opinions on the Web, certainly Obama could as well, no matter how busy he is.Certainly Obama could have have across the opposing opinions as to the nature of the Iranian program. He certainly should have read the 2007 NIE when he came into office, which ALONE should have demonstrated that Iran has no nuclear weapons program.He also could not have failed to notice that the previous IAEA chief, El Baradei, did not agree that Iran had a nuclear weapons program and had dismissed the evidence some of Obama's advisers might be pushing to prove otherwise.We, on the other hand, need to note Obama's political ties to people whose foremost interests were that Obama support Israel and thus Israel's position on Iran. These ties were clear during his election campaign to anyone who bothered to read any alternative media at all. Even so, I think it is fair to assign more weight than the Leveretts do to the other causes offered by Parsi for the lack of follow-through: "opposition from within [Obama's] own cabinet; I think that answers itself it was HIS OWN CABINET. Everyone in it was appointed by him and it was apparent from day one that they were ALL heavily weighted towards Israel's position on Iran. That could not have been an accident. by pressure from Israel, Saudi Arabia, lobbyists, and Congress…"I see this pressure as being more oriented around tactics than Obama's basic position on Iran, which was clear from the outset. Most of the pressure Obama received from Israel was about the settlements. Obama thought he needed some progress on the Palestinian front to establish his Peace President credentials, but the little he wanted to do was immediately crushed by Israel. And it can hardly be a surprise to Obama since he surrounded himself with people whose first reaction would always be to support Israel's position.Frankly, in my view, Obama was simply going through the motions on the settlements as well as on Iran. He was pandering to the Democratic base who wanted to see movement on the Palestinian issue after the clear pro-Israel behavior of the Bush administration. Obama can read the polls the American public would like to see the situation resolved. Any President has to make noises about the situation, even Bush. The Bush administration made numerous efforts publicly to get movement from Israel, even while sabotaging it behind the scenes as was made clear by the Wikileaks documents that showed Abbas being sandbagged at every turn.The same situation applies to Saudi Arabia. After the Bush Administration's and family's close ties to the Saudis, Obama could hardly have expected any support on any sort of Iranian diplomacy from that quarter. I suspect these influences on Obama were considerable, and his backbone has not proven to be as strong as many people predicted. I don't see any evidence that Obama ever had any backbone except in the delusional minds of his supporters who were mostly taken in by his rhetoric and not by his history of wishy-washy actions. Khamenei was merely stating that simple fact of international relations. In this sense, Khamenei was clearly more rational than most of Obama's supporters. He understands from the position of a state leader that actions speak louder than words. Political talk to the public from Western leaders is meaningless and he understands that. The people who clearly don't understand that is the American public. Time and again, we hear people say that some government, whether it be the US or the UK, clearly has a certain position when the entire evidence presented by such people is the public statements of some politician.I prefer to use Noam Chomsky's method of looking at the historical record of what a government has DONE to determine what a government's position actually is. Thus, I prefer to ascribe more weight to Khamenei's fatwa against nuclear weapons first because it is a religious statement which has more weight than a political campaign speech and would be harder to walkback or ignore publicly, and secondly because it is clear the Iranian state is behaving in a consistent manner with that statement, as well the fact that the statement agrees with the LOGIC of Iran's geopolitical needs, as well as being supported by the same observations by Iranian observers and diplomats both inside and outside Iran. it nevertheless may be fair to assign the bulk of the blame to a combination of naivete and ignorance of important details This is where my primary disagreement with you on this is. I don't see ANY evidence of either naivete or ignorance on the part of Obama. Perhaps Obama did not believe that the right to enrich really matters all that much to Iran, though the Iranian government has always made clear that it does. Which again is the answer to the question of whether ignorance is the cause: Iran has always made it clear. The facts of the NPT make it clear. Anyone with any knowledge of the general thrust of new nuclear nations would know that most of them desire the ability for domestic enrichment because of the basic distrust of the West and the desire for local sovereignty. Obama cannot have been ignorant of these facts. Certainly he SHOULD NOT have been ignorant of these facts. Maybe Obama understood that it matters but mistakenly believed the NPT or Iran's Safeguards Agreement denies Iran the right to enrich because of its pre-2003 disclosure violations (several serious and knowledgeable writers have made this argument, after all) Here you may be on firmer ground, since as you've noted in your writeup on this issue there is some legal ambiguity in some areas of this issue. Nonetheless, the position of the US government has been for some time preceding Obama's election that new nuclear nations must not be allowed to enrich (with some case by case exceptions motivated by geopolitical concerns such as Saudi Arabia). Obama came in with the clear intention of not allowing domestic enrichment.Nonetheless Obama cannot have failed to have notice the position that many others take that the NPT allows Iran to have domestic enrichment. Clearly what should have more weight here is the US' desire to eliminate that capability for many nations rather than ignorance of the issue.If Obama did not familiarize himself either by his own legal reading of the NPT and the relevant statutes, using his own legal interpretation skills (which presumably are on a par with yours or even mine) or by that of his legal advisers that the legal situation was either clear that Iran had an inalienable right to domestic enrichment or at best murky over whether Iran MIGHT have such a right but MAY have a reduced right due to its past actions, then I find it hard to ascribe his belligerent attitude about the issue simply due to ignorance. He SHOULD as a lawyer have made sure that he was on firm legal ground before threatening all options are on the table. Possibly Obama sincerely but mistakenly believed that Iran is obligated to observe the Additional Protocol, or to answer questions about military matters that go well beyond its Safeguards Agreement This begs the same question. He SHOULD have known these things were not correct. The buck stops here. It is his RESPONSIBILITY to know these things were not correct.The issue becomes: at what point does ignorant sincerity become criminal negligence. If you're threatening a country with war, I submit you'd best have your legal ducks in a row.Unless of course you're the American President who won't EVER face ANY consequences from not doing so.I cannot in any sense admit to Obama's sincerity . On the one hand, the ONLY evidence for it is Obama's rhetoric which itself is contradictory. On the other hand, we have his actions, and the failure to carry out what should have been clearly defined responsibilities.In my view, the weight of evidence based on actions is against Obama having ANY sincerity at all on this issue.
August 19, 2015, 1:01 pm (MST) - lXjSgc7hft said:
diz:Thanks for the post. I have usually noitecd that a majority of people are desirous to lose weight simply because wish to appear slim and also attractive. Nevertheless, they do not always realize that there are more benefits to losing weight as well. Doctors say that overweight people are afflicted by a variety of diseases that can be perfectely attributed to their own excess weight. The great thing is that people that are overweight in addition to suffering from several diseases can reduce the severity of their own illnesses by way of losing weight. It is possible to see a progressive but identifiable improvement in health if even a bit of a amount of losing weight is realized.
November 11, 2015, 6:27 pm (MST) - 4LcrCPCEHAm said:
diz:Thanks for helping me to gain new tips about peoarnsl computers. I also hold the belief that one of the best ways to help keep your laptop computer in leading condition is to use a hard plastic material case, and also shell, that matches over the top of the computer. These types of protective gear usually are model unique since they are manufactured to fit perfectly over the natural housing. You can buy them directly from the vendor, or through third party places if they are available for your laptop computer, however don't assume all laptop may have a shell on the market. Once more, thanks for your points.
News:

Offroad lighting behind the grill

---
The holy grail of Power Wagon Mods!

---
Pics and Video of Power Wagons Wheeling

---
VHT Nite Shades Cab Light Blackout Mod.

---
Added new gallery "Power Wagon Flexin' 3".

---
Added new gallery "Power Wagon Flexin' 1".

---
Added new gallery "Monster Truckin' 2".

---
Added new project "Ghetto Contractor Rack".

---
Added new project "Installing Cab Lighting".

---
Read about the attempted theft of my buddy's truck and how it was thwarted by a Ravelco security system.


Offsite Resources: